Putnam County Shop Owner Charged with Possessing 765 Cartons of Untaxed Cigarettes
Tax Department also seizes 3,137 untaxed cigars and nearly 60 pounds of untaxed loose tobacco at Brewster location
For Release: Immediate,
For press inquiries only, contact: James Gazzale, 518-457-7377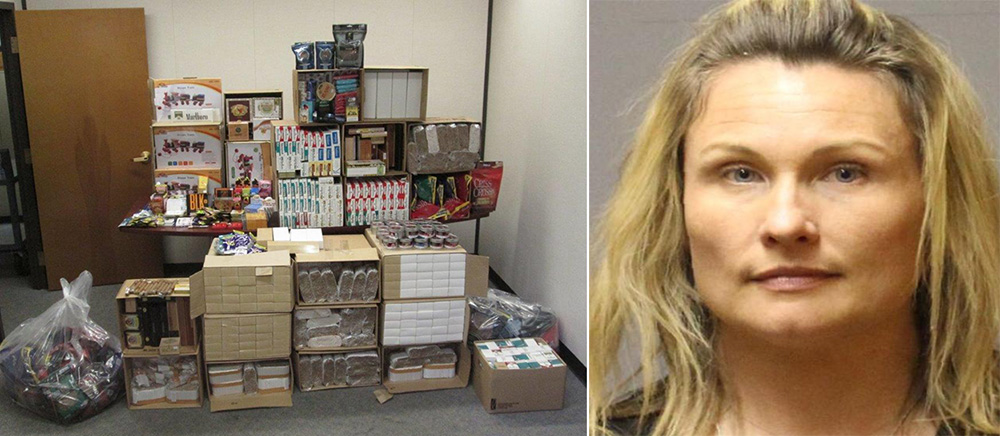 DTF Photos: Left, contraband cigars, cigarettes, and tobacco products seized by the NYS Tax Department; right the defendant, Shelley C. Wright
The New York State Department of Taxation and Finance today announced the arrest of a Putnam County business owner. She was charged with multiple felonies related to the possession of 765 cartons of untaxed cigarettes.
Shelley C. Wright, 38, of 45 Grand Ave., Danbury, CT, owns Towne Centre Tobacco at 1620 Route 22 in Brewster, NY. She appeared before the Hon. Richard W. Vercollone, on October 27, in the Town of Southeast Court and was arraigned on multiple counts of criminal possession of a forged instrument for possessing counterfeit tax stamps - class C felonies, as well as possession of untaxed cigarettes for the purpose of sale, and criminal tax fraud - also felonies.
In addition to arresting Wright, the Tax Department seized the cigarettes and 3,137 untaxed cigars, along with nearly 60 pounds of untaxed loose tobacco at the Brewster business location. The business's license to sell cigarettes and tobacco products also was suspended.
Working with U.S. Homeland Security and the New York State Police, the Tax Department determined that Wright was receiving the illegal products at Towne Centre Tobacco through the mail. Some of the illegal cigarettes were shipped in boxes labeled as children's toys and were delivered with the counterfeit stamps already affixed.
All cigarette packs sold in New York must have a legal New York State cigarette tax stamp affixed to the bottom, verifying that the excise taxes have been paid.
"This is a perfect example of our work with national and state law enforcement agencies to protect New Yorkers from those who engage in criminal behavior and fraudulent activities in order to evade their obligations under the law," said New York State Commissioner of Tax and Finance Jerry Boone. "We thank our partners and we remain committed to continuing our work together to protect the honest taxpayers of New York."
Wright is scheduled to reappear in court on November 10.
A criminal complaint is only an accusation and the defendant is presumed innocent until proven guilty. This case will be prosecuted by the Putnam County District Attorney's Office.
Report fraud
You can report tax evasion and fraud online at the Tax Department's Web site or by calling 518-457-0578. The information is kept confidential.
###
Updated: