Bronx Resident Arrested a Second Time for Possessing Contraband Cigarettes
In most recent arrest, defendant allegedly had 481 cartons of improperly stamped cigarettes
For Release: Immediate,
For press inquiries only, contact: James Gazzale, 518-457-7377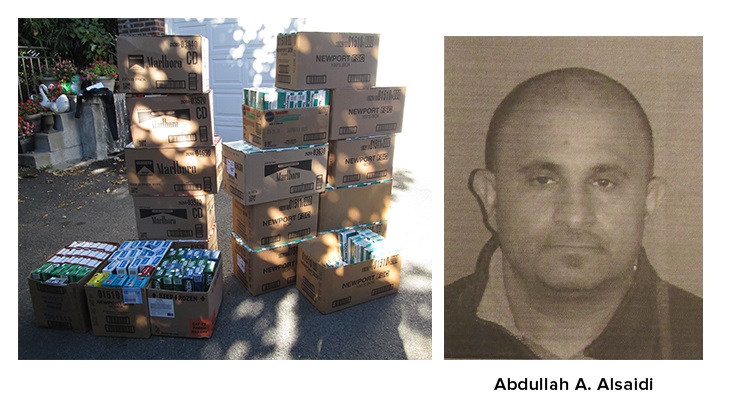 Tax Department photos: At left, contraband cigarettes seized at a garage in the Bronx; at right, the defendant.
The New York State Department of Taxation and Finance announced today that a Bronx resident has been arrested for possessing 481 cartons of contraband cigarettes.
The department's Criminal Investigations Division arrested Abdullah A. Alsaidi, 43, of 2055 Cruger Avenue, and charged him with two felonies and two misdemeanors for violating state and New York City cigarette tax laws. He pleaded not guilty and was released on his own recognizance.
Alsaidi allegedly possessed cigarettes, stored in a residential garage, that had only a Virginia tax stamp affixed to each pack. All cigarette packs sold in New York City must have legal New York State and New York City cigarette tax stamps affixed to the bottom, verifying that the excise taxes have been paid.
This is not Alsaidi's first encounter with the Tax Department. He was charged with selling untaxed cigarettes in 2010 and pleaded guilty to a misdemeanor count for possession of untaxed cigarettes. He paid restitution of more than $22,000.
"We will be relentless in bringing those who evade the cigarette tax to justice," said Acting Commissioner Nonie Manion. "These criminals cheat New York State and New York City out of vital tax dollars, and gain an unfair advantage over honest merchants."
The defendant faces up to seven years in prison and possible fines of up to $600 per carton of illegal cigarettes seized.
A criminal complaint is only an accusation; the defendant is presumed innocent until proven guilty. The cases will be prosecuted by the Bronx County District Attorney. A follow up court date has yet to be scheduled.
Report fraud
You can report tax evasion and fraud online at the Tax Department's website or by calling 518-457-0578. The information is kept confidential. The Tax Department takes this type of illegal activity seriously, promptly reviews each complaint, and takes corrective action when appropriate.
###
Updated: