Reminder: File on Your Phone at TAX.NY.GOV! Now Available en Espanol
NYS taxpayers with incomes under $62,000 can easily prepare and file income tax returns—and check their refunds—on the go.
For Release: Immediate,
For press inquiries only, contact: James Gazzale, 518-457-7377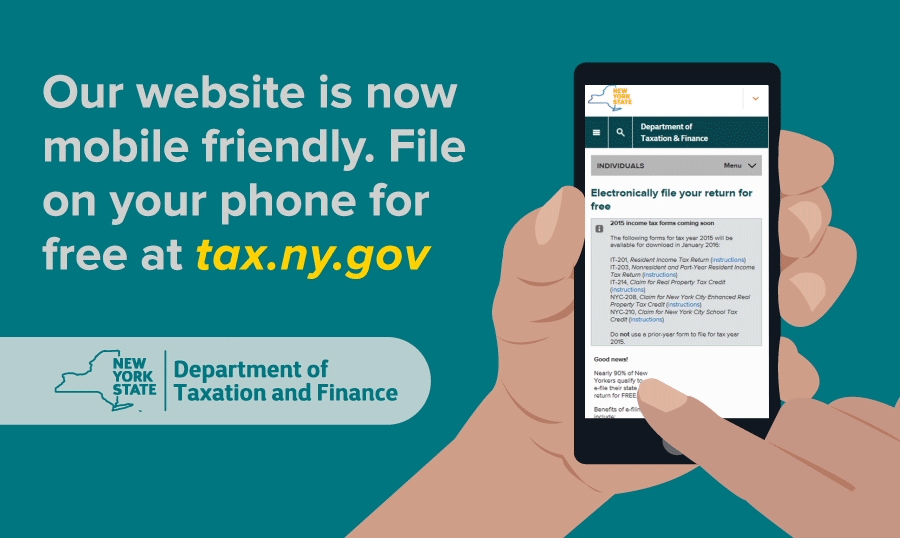 The New York State Department of Taxation and Finance today reminded New Yorkers that eligible taxpayers can electronically file their income taxes directly from their smartphones or tablets at tax.ny.gov.
The Tax Department website offers user-friendly software—including a Spanish language option.
The software and website are mobile-ready—they automatically adjust to fit your device's screen—and put tax preparation and refund updates in the palm of your hand.
"Our mobile-ready website makes e-filing your taxes and checking your refund right from your phone easy and convenient," said New York State Commissioner of Taxation and Finance Jerry Boone. "Having this program available in both English and Spanish allows more eligible taxpayers to take advantage of this free service."
You can now do the following from your mobile device:
prepare your federal and state return (for free if your income is under $62,000)
quickly check the status of your refund
sign up for email alerts about your refund
access all of the helpful information available at ny.gov
The Tax Department's mobile-ready website design provides taxpayers with easy navigation and fast downloads. Nearly 800,000 taxpayers—including more than 150,000 mobile users—access the Tax Department's website each week during the income tax season.
Check your refund
Instead of calling the Tax Department for your refund status, avoid wait times and go directly to our website to receive the same up-to-the-minute information available to our call center representatives.
The refund status tool is available anytime with the touch of a button. The tool is updated daily to provide the latest information, including the amount of a taxpayer's refund.
It also provides a timeframe for each step in the processing of your return—from receipt of the return to the issue date.
Sign up for email alerts
Refund updates are also available by signing up for Tax Department email alerts.
For more information:
###
Updated: