More Than 42,000 Untaxed Cigars Seized by Strike Force Investigators
Rochester man faces felony charges in case
For Release: Immediate,
For press inquiries only, contact: James Gazzale, 518-457-7377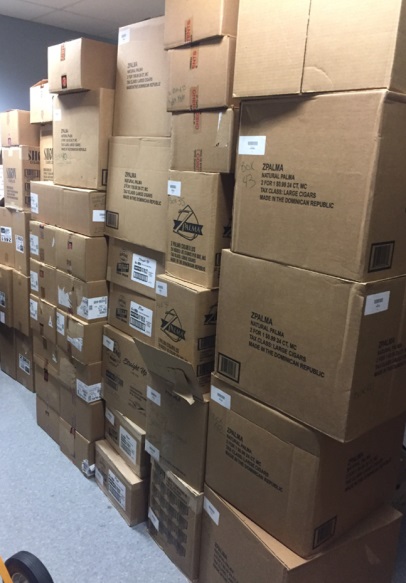 Tax Dept. Photo: Boxes contain tens of thousands of contraband cigars.
The New York State Department of Taxation and Finance today announced that it seized 42,960 untaxed cigars and arrested a Rochester resident for allegedly violating the State's tobacco tax laws. The Tax Department's Cigarette Strike Force followed a vehicle traveling to Pennsylvania where the driver loaded approximately 50 boxes of tobacco products into the vehicle. He then returned to New York State.
• Seized: 42,960 contraband cigars and 8,810 "wraps" used to make cigars.
• Arrested: Anwar Ahmed, 42, of 31 Wakecliffe Drive, Rochester
• Charges: Criminal tax fraud and possession of untaxed cigars, both felonies. He was also charged with one misdemeanor.
• Possible sentence: Up to four years in prison plus additional fines and penalties.
• Court date: Ahmed is expected to appear in Chemung Town Court next month. The case will be prosecuted by the Chemung County District Attorney.
A criminal complaint is only an accusation; the defendant is presumed innocent until proven guilty.
Report fraud
You can report tax evasion and fraud online at the Tax Department's website or by calling 518-457-0578. The information is kept confidential. The Tax Department takes this type of illegal activity seriously, promptly reviews each complaint, and takes corrective action when appropriate.
###
Updated: