Contraband Cigarettes Seized in Schenectady
Defendant faces up to one year in jail, as much as $10,000 in fines, and additional penalties of up to $600 per carton
For Release: Immediate,
For press inquiries only, contact: James Gazzale, 518-457-7377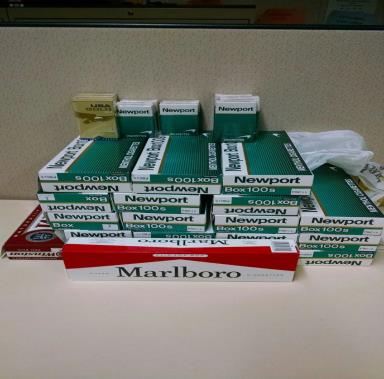 NYS Tax Photo: Brand-name contraband cigarettes were seized in Schenectady
The New York State Department of Taxation and Finance said today that a 55-year-old Schenectady resident has been charged with the possession of 21 cartons of contraband cigarettes.
Michael A. Tarver of 1626 Rugby Road was charged with 5th degree criminal tax fraud and the possession of untaxed cigarettes with intent to sell, both misdemeanors.
"This case serves as a reminder that trying to sell any amount of untaxed cigarettes is illegal—a crime that can carry serious consequences," said NYS Tax Department Commissioner Jerry Boone.
Tarver allegedly sold cartons of untaxed cigarettes from his automobile in the parking lot of a Schenectady convenience store. Investigators with the Tax Department's Cigarette Strike Force seized $1,243 in cash as well as the 21 cartons of unstamped cigarettes.
All cigarette packs sold in New York must have a legal New York State cigarette tax stamp affixed to the bottom, verifying that the excise taxes have been paid.
Tarver's criminal case will be heard by the Schenectady City Court and prosecuted by the Schenectady County District Attorney. He faces up to a $10,000 fine and up to one year in jail. The Tax Department may also impose civil penalties that could be as much as $600 for each untaxed carton of cigarettes Tarver possessed.
A criminal complaint is only an accusation and the defendant is presumed innocent until proven guilty.
Report fraud
You can report tax evasion and fraud online at the Tax Department's website or by calling 518-457-0578. The information is kept confidential.
###
Updated: